Skontaktuj się z nami
Telefon
Polska
+48 58 762 17 80
Formularz kontaktowy
Z przyjemnością odpowiemy na Twoje pytania.
> Kontakt
22.02.2018
R4-Rotary Locking Systems: New Products in the High-performance Range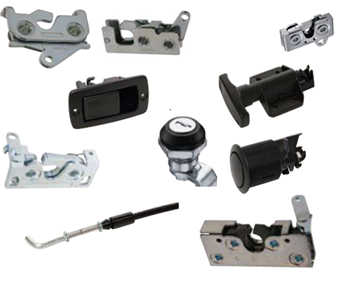 Whether in a bus, a mobile home or a lorry, in heavy construction and industrial machinery or IT or electronic cabinets, KVT-Fastening covers practically every requirement for security, flexibility and control possibilities of push-to-close and cam latches with the wide spectrum of Southco R4-Rotary Locking Systems in a range of sizes. New to the programme are the versions R4-05 and R4-30 in stainless steel. These are ideal for outdoor use, for example for doors and covers in land vehicles, distribution cabinets accessible to the public and outboard motors. They also fulfil the strict demands of the food industry und other branches of industry with particularly stringent hygiene regulations.
The Southco R4-Rotary product range brought to you by KVT-Fastening currently comprises the following five versions: R4-05, R4-10, R4-20, R4-30 and R4-50. Each of these locking systems can be modified individually to match the customer's requirements. There are left- and right-hand versions of the push-to-close cam latches with single- and two-stage locking available. The latter offer unusual security features, doors and covers closed gently can be closed quietly and without vibration. As an option, shock absorbers can be integrated to suppress vibration. Even more flexibility is available to the user thanks to the comprehensive range of accessories. For example, as well as a mechanical release, either direct or with Bowden cable –a combination with an electronic release and remote control is also an option. With the optional recessed grip action, a "Rotary" push-to-close cam latch and a release element can be combined in a single mechanical solution, making the installation of Rotary Systems even simpler.

A summary of the R4 Rotary range
R4-05 Rotary "Micro"

Ideal for applications where space is restricted
Single- and two-stage closures (secure locking)
Available in galvanised steel or stainless steel
Symmetrical design, "right-hand" and "left-hand" release unnecessary
Standard strength: 2600 N

R4-10 "Mini"

Single- and two-stage closures (secure locking)
Suitable for single- or multiple-point locking
Available in galvanised steel or stainless steel(single stage only)
Available with right- or left-hand release
Standard version complies with EN45545-3 E60
Standard strength: 4600 N

R4-20 "Medium"

Compact design, especially suitable for rigid panels
Single- and two-stage closures (secure locking)
Suitable for single- or multiple-point locking
Tolerates misalignment / compensates for tolerance
Available in galvanised steel
Available with right- or left-hand release
Complies with EN45545-3 E60

R4-30 "Large"

Only available with two-stage locking
Suitable for single- or multiple-point locking
Available in galvanised steel or stainless steel
Mechanical strength: 10675 to 14230 N
Complies with EN45545-3 E60 and FMVSS 206

R4-50 "Heavy duty"

Only available with two-stage locking
Double bolt, suitable for single- or multiple-point locking
Available with right- or left-hand release
Mechanical strengthat 110,000 cycles: lock: up to 18,000 N, bolts: up to 12,000 N
Complies with EN45545-3 E60 and FMVSS 206